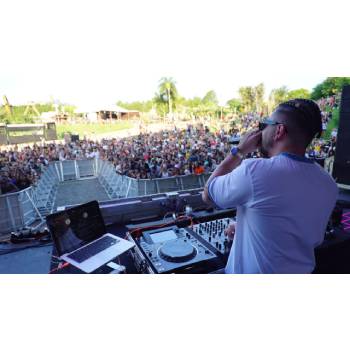 Open Format music is a style of DJing where the DJ mixes different genres of music. It typically includes a mix of pop, hip-hop, EDM, and Top 40 music. This style allows DJs to be creative and create unique sets that appeal to a wider audience. 
The influence of Open Format style in music today is massive. It has allowed for DJs to be more creative with their sets by incorporating different genres, styles, and eras into their mixes. It has also opened up opportunities for producers to create mashups and remixes, as well as create entirely new sounds by combining elements from different styles. Open Format has also allowed for DJs to have more control over their sets, allowing them to mix and match tracks in a way that best suits their audience. It's given DJs the freedom to express themselves and their musical tastes in a unique and creative way. 
Would you like a quote or get in touch about Open Format Dj?
How is an Open Format DJ different from other styles? 
An Open Format DJ is a DJ who plays a broad range of music genres and styles, rather than specializing in one particular genre. The Open Format DJ typically mix music from different eras, genres, and styles, often playing a range of Top 40, EDM, hip-hop, pop, and rock. They are often seen as more versatile than other types of DJs, and are often hired for events that require a large variety of different music styles. 
The main advantage of hiring an Open Format DJ for your party is that they are able to play a wide range of music genres to suit a variety of tastes. They have the ability to mix and match different genres to create a unique and enjoyable experience for your guests. They are also able to read the crowd and play music that will be the most popular and enjoyable for all. 
The best Open Format DJ in the scene is the one who has a deep understanding of the music and the genre, and have a deep respect for all styles of music. They have a strong understanding of crowd dynamics and know how to read the crowd and what songs to choose to keep people dancing. They are also versatile and able to switch between different styles of music quickly and effortlessly, to keep the energy levels up. Lastly, they have a strong technical foundation and can mix and blend different genres together seamlessly. 
Hire the best Open Format DJ for your party 
It is very important to hire the best Open Format DJ for your party. A great open format DJ will have the ability to keep the dance floor packed and create a fun and energetic atmosphere. They should also be able to read the crowd and make the appropriate musical selections. A good Open Format DJ should also have the technical skills to mix and scratch the music seamlessly. 
If you are looking for one of the leading names in Open Format style, DJ Tovitz is the reference. DJ Tovtiz's career is marked by great stints in Miami's top clubs, including Miami Mynt Lounge and Mokai. Outside of Miami, the DJ also works in the cities of Washington DC, New York, Chicago, Florida, Dallas, Houston, Alabama, New Jersey, Philadelphia, Los Angeles, Las Vegas, and Boston. Contact our team and hire the best DJ for your party.
O texto acima "Open Format Dj" é de direito reservado. Sua reprodução, parcial ou total, mesmo citando nossos links, é proibida sem a autorização do autor. Plágio é crime e está previsto no artigo 184 do Código Penal. – Lei n° 9.610-98 sobre direitos autorais.