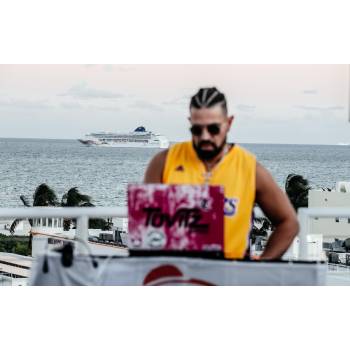 Miami is a popular city for parties. The city is renowned for its vibrant nightlife and its many trendy nightclubs, bars, and lounges. It is also home to some of the most popular music festivals and events in the world, like Ultra Music Festival, Miami Music Week, and Art Basel. This is one of the main reasons to hire the best DJ in Miami. 
A DJ can provide the perfect soundtrack for your party and help to create an atmosphere of fun. They can get people up and dancing, create a unique soundtrack for the night and help to keep the energy levels high. A DJ can also keep the party running smoothly, keeping the music going and helping to transition between different activities during the night. 
Finding the best DJ in Miami is important because you want to ensure that your event is a success. A good DJ will be able to create the perfect atmosphere and get the crowd moving. They should also be able to read the crowd and adjust their set accordingly. Additionally, a good DJ will have the proper equipment and be able to provide the best sound quality for your event. 
Would you like a quote or get in touch about Best Dj in Miami?
Why should we hire the best DJ in Miami for our party? 
Hiring a professional DJ for your party has many advantages. A professional DJ can bring energy and excitement to your event, help you plan the perfect soundtrack for your celebration, and provide quality sound equipment and lighting. They can also create a unique atmosphere and help you create an unforgettable experience for your guests. Additionally, a professional DJ can ensure that your music selection is appropriate for the occasion and provide you with high-quality sound that is tailored to your needs. 
DJ Tovitz is one of the most popular DJs in Miami, in other words, he is the best DJ in Miami because of his creativity and experience. He has been performing for over 14 years and has been featured in several major clubs, festivals and special events across the city. He has a unique style and is known for his ability to mix different genres and styles in the same set. He has a large following and is considered a master at blending hip-hop, electronic, and Latin music. 
Choose the best DJ in Miami 
When you book DJ Tovitz for your event, you can guarantee that your guests will have an unforgettable experience. He has been providing DJ services for a variety of events for over ten years and has a wealth of experience to draw from. He is passionate about his craft, and always goes above and beyond to ensure that every event he DJs for is a success. He has an extensive music library and is always happy to accommodate requests. He is also a master at reading the crowd and playing the right music that will keep the party going all night long. With the best DJ in Miami, you can expect an unforgettable time that your guests will be talking about for years to come. 
Dj Tovitz has played parties with many celebrities, including actors, athletes, and musicians. Standing out as best DJ in Miami, Dj Tovitz has performed with internationally known artists, including Ne-yo, Black Eyed Peas, Soulja Boy, DJ Khaled (Miami), Kaskade, Ot Genesis (Miami), A -Trak, Bow wow and many others. He is well-known for his high energy and eclectic mix of music for any type of event. He is also a master of reading the crowd and playing the perfect music for any occasion. Guarantee an unforgettable experience with the best DJ in Miami.
O texto acima "Best Dj in Miami" é de direito reservado. Sua reprodução, parcial ou total, mesmo citando nossos links, é proibida sem a autorização do autor. Plágio é crime e está previsto no artigo 184 do Código Penal. – Lei n° 9.610-98 sobre direitos autorais.