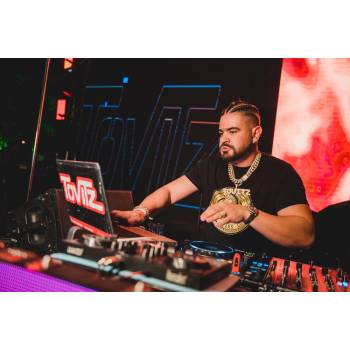 A DJ (disc jockey) is a person who plays recorded music for an audience, usually in a nightclub or at a party. In the world of hip hop music, the DJ plays an important role in the creation of the music. They select, blend, and scratch records to create unique sounds and beats that form the backdrop of many hip hop songs. The DJ is also responsible for providing the energy and vibe in the room, which can influence the atmosphere of the performance. 
Hip hop is a genre of music that originated in the United States in the 1970s. It is characterized by the use of an electronic drum machine, samples of other musical styles, rap lyrics and rhythmic rapping. Its influence is seen in today's music industry through the incorporation of rap and hip hop into many other genres, such as pop, country, and rock. Its influence is also seen in the way many artists now use electronic elements in their music. Hip hop has created a new generation of music fans who are drawn to its edgy beats and rhymes, and it has helped to popularize genres such as trap and grime. 
Would you like a quote or get in touch about Hip Hop Dj?
About the best hip hop DJ 
The best hip hop DJ is subjective and depends on personal preference. Some people may prefer a DJ who plays a lot of classic hip hop records, while others may prefer a DJ who specializes in new music. The best way to determine the best hip hop DJ is to listen to as many different DJs as possible and decide which one appeals to you the most. 
To make our choice easier, we must consider some essential characteristics for this type of artist, among them, we can identify the 5 main ones: 
1. Creativity: A hip hop DJ must have the ability to create new beats, remixes, and mashups to keep the audience engaged. 
2. Technical Skills: A hip hop DJ must possess technical skills that allow them to mix, edit, and scratch records with precision. 
3. Musical Knowledge: A hip hop DJ must possess a thorough knowledge of the music they are playing. This includes being able to recognize and identify different genres, beats, samples, and riffs. 
4. Showmanship: A hip hop DJ must have the ability to engage an audience through personality and crowd interaction. 
5. Networking: A hip hop DJ must have the ability to network and create relationships in the music industry. This includes being able to connect with producers, promoters, and other DJs. 
All these characteristics we found in DJ Tovitz. He is one of the most renowned Hip Hop and Open Format DJs in the scene. He has conquered an important space in the universe of electronic music, especially among Hip Hop lovers. 
DJ Tovitz is the best choice for your party 
DJ Tovitz is a renowned Brazilian artist who has taken the best of open format hip hop style to dance floors around the world. The Brazilian has been active in the scene for almost two decades and began his international career in 2016. Tovitz brings a presentation full of energy and technique with the microphone, marking a strong presence in several clubs in Miami, Orlando, New York, Houston, Boston and many other places around the United States. Provide the best experience for your guests to the sound of DJ Tovitz.
O texto acima "Hip Hop Dj" é de direito reservado. Sua reprodução, parcial ou total, mesmo citando nossos links, é proibida sem a autorização do autor. Plágio é crime e está previsto no artigo 184 do Código Penal. – Lei n° 9.610-98 sobre direitos autorais.