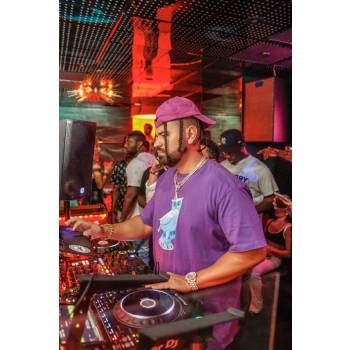 A professional DJ is an experienced and skilled music artist who specializes in the art of audio mixing and track selection. They are often responsible for playing music at events or clubs, creating a fun and energetic atmosphere. Professional DJs will have an extensive music library and sound equipment, and they will be able to mix and blend tracks to create unique and exciting sets. They also need to be able to read the crowd and respond to their preferences in order to create a successful event. 
Choosing to hire a DJ is a great idea for livening up the party because they can create a fun and entertaining atmosphere, play a variety of music to suit everyone's tastes, and help keep the party going by managing the sound level and playing the right songs at the right times. They can also take requests, provide interactive activities and announcements, and help create a memorable experience for all your guests. 
Would you like a quote or get in touch about Hire a Dj?
What are the benefits of hire a DJ for club parties? 
When it comes to parties, all the elements used are fundamental, especially when the matter involves the hire a DJ to command the dance floor. If you don't hire a professional DJ, the entertainment can be a failure. It is important to hire a professional DJ because they know how to read the crowd and choose the best music for the occasion. They also have the technical skills to mix the music and create a unique set that keeps the party going. 
Additionally, a professional DJ can help make sure the sound system is properly set up and in good working order. Having a professional DJ also adds a level of sophistication to the event, as they can bring a level of professionalism and experience that other party guests cannot. Let's look at the 4 reasons to hire a DJ for the success of your party: 
1. Professional and Experienced DJs: Hiring a professional DJ for a club party ensures that the music and entertainment are of the highest quality and tailored to your audience. Professional DJs come with years of experience and can read a crowd and adjust the music accordingly, making sure your party is a hit. 
2. Variety of Music: hire a DJ opens up a wider variety of music options that you may not have access to otherwise. Professional DJs have a large library of music and can mix and match different genres, so your guests will be sure to hear something they like. 
3. Fun and Exciting Atmosphere: A great DJ will bring energy and excitement to your club party. They can interact with the crowd and get them involved, creating a fun and enjoyable atmosphere. 
4. Cost-Effective: hire a DJ can be much more cost-effective than hiring a live band, making it a great way to add music and entertainment to your club party without breaking the bank. 
Choose to hire a DJ with extensive experience 
Choosing to hire a DJ with extensive experience is a great way to ensure that your event will have top-notch music and entertainment. An experienced DJ will be better able to read the crowd and provide a tailored playlist that will keep the celebration going. They will also be able to bring the latest technology and equipment to make your event sound better than ever. They will have the knowledge and skill to mix the music seamlessly and mix in the right tracks at the right time. Finally, an experienced DJ will be more reliable and efficient at setting up and tearing down their equipment. 
DJ Tovitz is the ideal professional to play at your party. He has extensive experience in the scene and has played in many cities, including Miami, Florida, Orlando, Houston, Washington DC, Los Angeles, Las Vegas, and many other places.
O texto acima "Hire a Dj" é de direito reservado. Sua reprodução, parcial ou total, mesmo citando nossos links, é proibida sem a autorização do autor. Plágio é crime e está previsto no artigo 184 do Código Penal. – Lei n° 9.610-98 sobre direitos autorais.