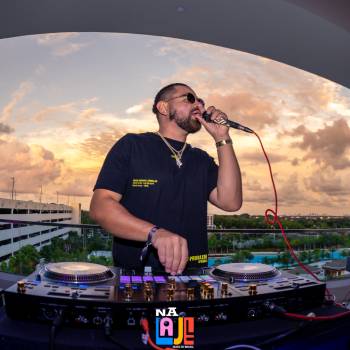 DJ parties are very important in the city of Miami as they are one of the main forms of entertainment in the city. The city is known for its vibrant nightlife and many of the city's major events such as Art Basel and Miami Music Week feature some of the world's best DJs. DJS playing in Miami are also a great way to meet people and discover new music, making them an integral part of Miami's culture. 
A DJ (disc jockey) is a person who is responsible for manipulating recorded music to create an entertaining atmosphere for a party or event. DJs are an essential part of the music industry and are often found in concert halls, nightclubs, and other party venues. They create the perfect atmosphere for people to dance and enjoy the music. DJs are able to mix different songs together, as well as add sound effects and vocal samples. By creating a unique and interesting atmosphere, DJs can make any event more lively and enjoyable for the guests. 
Would you like a quote or get in touch about Djs Playing in Miami?
What to expect from the best DJs playing in Miami? 
The best DJs playing in Miami can be expected to bring a high energy, cutting-edge sound to the city. Miami is known for its vibrant nightlife and plethora of music venues, so DJs will be sure to bring their best tracks for a unique and memorable experience. They can be expected to bring a mix of genres ranging from EDM to hip-hop, as well as a variety of remixes and mash-ups. DJs playing in Miami are known for their ability to read the crowd and keep the party going all night long. If you are in search of the best DJs playing in Miami, know the main characteristics of their performances, among them: 
      A passion for creating a unique atmosphere for each event
      The ability to read the crowd and create a custom music selection
      A deep knowledge of the music and a wide variety of genres
      The ability to mix and mix live
      Great customer service and an interactive approach to the audience
      Professionalism and reliability in their services
      Experience in producing music and remixing popular tunes 
Tovitz is one of the best DJs playing in Miami 
Tovitz is one of the best DJs playing in Miami, delivering memorable performances and sets that win over audiences of all genres. He has a versatile range of musical styles, and has been playing events for over a decade. He has performed at many of Miami's most popular nightclubs and venues, including the iconic LIV nightclub, Miami Mynt Lounge, and Mokai. 
Outside of Miami, Tovitz has toured the US, playing in cities such as New York, Las Vegas, Los Angeles, Dallas, Florida, Chicago, New Jersey, Philadelphia, Washington, Alabama, Boston and Houston. He's also been featured in top international events, such as Miami Country Fest, and he is resident of the biggest New Year's Eve party in the country - Let's Pipa. Tovitz is also an experienced producer, having collaborated with some of the industry's leading names and released tracks on the Brazilian scene. 
Certainly, DJ Tovitz is one of the best DJs playing in Miami and the best reference to play at your party. He has an important partnership with the renowned Komodo lounge, Pilos Tequila Garden, Moxy South Beach, MaÜ Miami, Playa Miami, LIV, Swan, The Locale, Sax Lounge, and Brahma Beer USA
O texto acima "Djs Playing in Miami" é de direito reservado. Sua reprodução, parcial ou total, mesmo citando nossos links, é proibida sem a autorização do autor. Plágio é crime e está previsto no artigo 184 do Código Penal. – Lei n° 9.610-98 sobre direitos autorais.