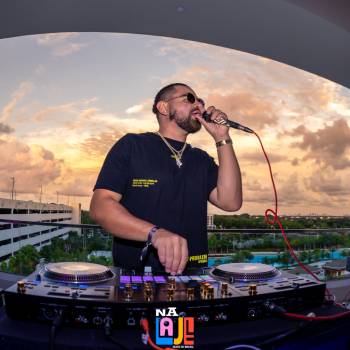 Miami is a hotspot for electronic music festivals and events, such as Ultra Music Festival, Electric Daisy Carnival, and Miami Music Week. These events attract some of the biggest names in the EDM world and bring thousands of people to the city. In addition to the music festivals, Miami is also home to a thriving electronic music scene, with many popular DJs and producers based in the area. The city's vibrant nightlife, stunning beaches, and vibrant culture make it the perfect destination for electronic music lovers. 
It is very common to hire Miami party DJ for several styles of events. Miami is a popular destination for party DJs, as it has a vibrant nightlife and culture. Party DJs can provide music for myriad types of events, from weddings to corporate events to nightclubs. DJs can select music tailored to the event, create a specific atmosphere, and provide an exciting soundtrack to help keep the party going. They can also provide lights and video to create an even more memorable experience. 
Would you like a quote or get in touch about Miami Party Dj?
Looking for the best Miami party DJ 
Looking for the best Miami party DJ is a task that can yield you excellent benefits if done correctly. The key to finding the best Miami party DJ is to do your research. Look for DJs who have experience in the Miami area, preferably with a good track record of successful events. Speak with the DJs you are considering and ask them about their style, their music selection, and their experience. Additionally, check online reviews and ratings to get an idea of how other customers have felt about the DJ's services. Finally, make sure to get a quote from each DJ you are considering and compare them to find the best value for your needs. 
As the best reference for your party, DJ Tovitz is one of the most sought-after Miami party DJ scene. His good reputation is the result of more than a decade of hard work. It is important to point out that his trajectory is well consolidated in the electronic music universe, making him the main benchmark of the Open Format style.  
DJ Tovitz is one of the top names as Miami party DJ 
DJ Tovitz is known for his ability to mix and blend different musical genres, from hip-hop to latin music, to create an unforgettable atmosphere for all kinds of events. He has a vast knowledge of the latest music trends, which makes him the perfect choice for any kind of celebration. 
Apart from his spectacular talent, his friendly, humble and professional attitude makes him stand out from the rest. He has gained the trust of the most recognized party promoters in Miami, and that is why he is the main choice to provide the best music experience. 
For you who are looking for the most renowned Miami party DJ, check out the works of DJ Tovitz. His performances have won over party goers in several genres, especially hip hop, reggaeton, and Brazilian funk. His talent and professionalism have taken him to the hottest clubs in Miami, including Mynt Lounge and Mokai. Hire the top Miami party DJ and offer your guests the best of Open Format music. DJ Tovitz is the key to make your party the best experience ever. Take a look at his website to get to know him better and see the kind of shows he has produced.
O texto acima "Miami Party Dj" é de direito reservado. Sua reprodução, parcial ou total, mesmo citando nossos links, é proibida sem a autorização do autor. Plágio é crime e está previsto no artigo 184 do Código Penal. – Lei n° 9.610-98 sobre direitos autorais.