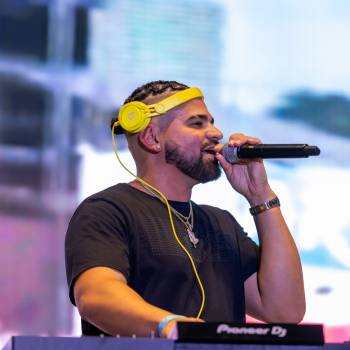 Houston is a very popular city and the ideal place to hold many events and parties for many reasons. First, Houston has a great climate. With its warm temperatures, it is the perfect place to hold outdoor events and parties year-round. Second, this city has a wide array of venues to host events and parties. There are many large and small spaces for rent, from ballrooms to parks to rooftop bars. Houston has a wide variety of activities to keep your guests entertained. From museums to art galleries to amusement parks, there is something for everyone. This city has numerous restaurants, bars, and other entertainment venues to enjoy. With all these factors, it's no wonder why Houston is an ideal place to hold events and parties. 
In this article, we will talk about the importance of hiring the best DJ in Houston and ensuring the success of any event. A DJ is a disc jockey, a person who plays recorded music for a live audience. DJs are important for music events because they provide the soundtrack of the event by selecting and mixing the right tunes to create the right atmosphere. They are also able to interact with the crowd and keep the energy up throughout the event. 
Would you like a quote or get in touch about Best Dj in Houston?
Why should we hire the best DJ in Houston? 
Hiring the best DJ in Houston is a great way to ensure that your guests have an enjoyable, high-quality musical experience. Professional DJs are experienced in selecting music that will get your guests on the dance floor and create an unforgettable atmosphere. Furthermore, they will also have state-of-the-art equipment, ensuring that the sound quality is up to par. Last but not least, a professional DJ will know how to read the crowd and make sure the music fits the overall vibe of the party. 
Tovitz is a professional music producer and one of the best DJ in Houston. He has been in the industry for over 14 years and has been behind the decks at some of the most high-profile events in the city. His style of mixing and blending different genres of music together has made him a favorite among party-goers in Houston and beyond. He has become a staple at many nightclubs, festivals, and corporate events. Not only does he have a great style and flow, but he is also incredibly versatile. He can easily switch between different genres of music, especially (Open format, hip hop, reggaeton and Brazilian funk) keeping the crowd engaged and energized. He is also known for his ability to read the crowd and create a unique atmosphere. Whether it's a corporate event, parties, or a club gig, Dj Tovitz always brings something special to the table. That is the main reason why he is the best DJ in Houston. 
DJ Tovitz is your best choice as the best DJ in Houston 
If you are looking to hire one of the main names in Hip hop / open format that has the most sought-after sets by lovers of the style, Dj Tovitz stands out with his presentations full of technique and interaction with the audience. He is definitely one of the best DJ in Houston, and has played in many clubs in Miami Beach, New York, Chicago, New Jersey, Los Angeles, and many other places. 
Tovitz is a Brazilian professional DJ who started his international career in the year 2016. He soon became a resident of the trendy favela beach at the wall lounge, Rockwell among others, in addition to his performances with renowned artists including Black Eyed Peas, Ne-Yo, Ja Rule, Kid Ink, Soulja Boy, Bow Wow, Prince's Baby Boy, DJ Khaled (Miami), Kaskade, A - Trak and Ot Genesis (Miami). Hire the best DJ in Houston today and ensure the success of your party.
O texto acima "Best Dj in Houston" é de direito reservado. Sua reprodução, parcial ou total, mesmo citando nossos links, é proibida sem a autorização do autor. Plágio é crime e está previsto no artigo 184 do Código Penal. – Lei n° 9.610-98 sobre direitos autorais.