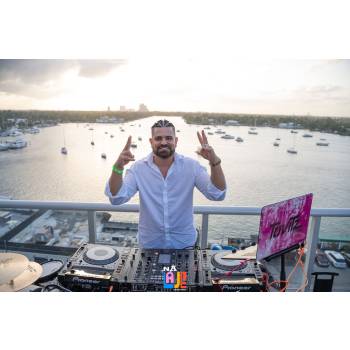 The parties and clubs in Miami are very important. They are a major part of the city's vibrant nightlife and draw people from all over the world. The variety of music, dancing, and entertainment offerings make Miami a desirable destination for those looking to have a great time. Miami's clubs and parties also help to generate a large amount of revenue for the city, as people come from all over to experience the unique atmosphere and culture. 
A DJ in Miami is essential for clubs and parties because they bring a unique and energetic atmosphere to any event. A professional DJ knows how to keep the crowd engaged and entertained with their high-energy and vibrant music selection. They are experts at blending different genres, such as hip-hop, house, EDM, Latin, and more, to create a unique and memorable experience for guests. The best DJs also have a wealth of local knowledge, which can help them customize their set to fit the vibe and style of the event, ensuring that it is a night to remember. 
Would you like a quote or get in touch about Dj in Miami?
The Benefits of Hiring Professional DJs in Miami 
The main reason to hire a DJ in Miami to entertain parties and clubs is to create a fun and entertaining atmosphere. A DJ is able to play music that fits the mood and energy of the party, and can even take requests from the guests to make sure everyone is having a great time. A DJ can also make announcements, such as when it's time for the next dance or game, and can even provide sound effects and lighting to add to the atmosphere. 
You can check below the list with the main benefits of hiring a professional DJ in Miami: 
1. Professional DJs are experienced and knowledgeable in music and entertainment, so they can provide high-quality music and entertainment services tailored to your needs. 
2. Professional DJs have access to the latest equipment and technology, so they can create the perfect atmosphere for your event. 
3. They have a large selection of music to choose from, so they can provide the perfect soundtrack for your event. 
4. Professional DJs can provide a wide range of services, such as providing lighting and sound systems, making announcements, and setting the mood for your event. 
5. A Professional DJ in Miami is experienced in dealing with large crowds and know how to keep your guests entertained. 
6. Professional DJs can help you create a unique and memorable experience for your event. 
Tovitz holds a significant spot as a DJ in Miami 
If you are looking for a DJ in Miami with extensive experience in parties and clubs, be sure to hire DJ Tovitz. He is one of the most talented Brazilian DJs playing in Miami, establishing himself as one of the main names in Open Format, Hip Hop, Reggaeton, and Brazilian Funk. Playing on the international scene since 2016, DJ Tovitz has stood out for his rhythm-filled performances and interaction with the audience. He has important partnerships with places highly frequented by the public, among them Playa Miami, MaÜ Miami, Moxy South Beach, Komodo Lounge, Pilos Tequila Garden and many other places. 
DJ Tovitz was one of the DJs who made his mark in the best clubs in Miami, playing in the trendy Miami Mynt Lounge and Mokai. Hire DJ Tovitz for your party and be sure you can count on the ideal DJ in Miami to make your night go further.
O texto acima "Dj in Miami" é de direito reservado. Sua reprodução, parcial ou total, mesmo citando nossos links, é proibida sem a autorização do autor. Plágio é crime e está previsto no artigo 184 do Código Penal. – Lei n° 9.610-98 sobre direitos autorais.