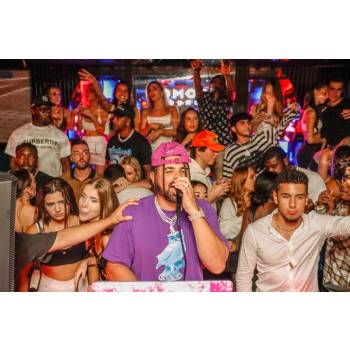 Florida is a great place to party. It has some of the best beaches in the world to enjoy, amazing theme parks, lively nightlife, and more. In addition, Florida has some of the best weather to have an outdoor party all year round. The importance of hiring the best DJ in Florida is key to matching the host's preferences. Regardless of the style of the party, it is generally important to hire a professional DJ for the best results. As we know, music is the main element to ensure that all guests are connected to the atmosphere, sharing unforgettable moments.  
To guarantee the success of your event, it is essential to hire the best DJ in Florida. This can be done by researching different DJs in the area and reading reviews from past clients. Additionally, you should ask for a sample playlist to ensure that the DJ's style is a good match for your event. It is also important to discuss the DJ's fees and any additional costs, like lighting and sound equipment rental fees. Lastly, it is a good idea to ask the DJ to provide references so you can get an understanding of the level of professionalism they bring to the table. 
Dj Tovitz has had a 14-year career and has developed a reputation as one of Florida's top DJs. He is known for his eclectic and unique style, becoming one of the top names in hip hop/open format and more. He is highly respected in the music industry and has played alongside some of the biggest names in the business including DJ Khaled (Miami), A -Trak, Kaskade, Black Eyed Peas, Ja Rule and more. His sets are always high energy and he puts on an unforgettable show. 
Would you like a quote or get in touch about Best Dj in Florida?
Choose the best DJ in Florida and guarantee the success of your event 
Hiring the best DJ in Florida to rock a party is of great significance, as he ensures that the party will be fun and memorable. A professional DJ knows what music to play to excite the guests and what volume to adjust to create the right mood. In addition, a professional DJ will have quality equipment to ensure that the party is a unique experience. 
Music is an important part of any party. It provides rhythm, energy, and entertainment for the guests. Music can help create an atmosphere of fun, joy and relaxation, making the party more fun and lively. In addition, you can create a unique and personalized atmosphere by choosing music that is appropriate to the theme of the party and the guests' preferences. The best DJ in Florida has the full knowledge that music can also serve as the musical background that unites all guests in a unique and memorable experience. 
In other words, the success of your event will depend on hiring the best DJ in Florida for several reasons. A professional DJ has the essential tools to create a lively and entertaining atmosphere for all the guests. He can also select the right music for each moment of the event, from lively dance music to quieter closing. A good DJ also has the technical knowledge to make sure that the sound is optimized and the equipment works properly. In addition, a good DJ can also help organize the event so that it is fun and safe.
DJ Tovitz is the best DJ in Florida 
If you are looking for the best DJ in Florida, DJ Tovitz has remarkable experience. His sets are highly sought after by style lovers, and his performances are full of technique and audience interaction. Since 2016, DJ Tovitz has played at several clubs in Miami Beach, Orlando, New York and elsewhere. His success is a result of the excellence of his work and unique style. 
O texto acima "Best Dj in Florida" é de direito reservado. Sua reprodução, parcial ou total, mesmo citando nossos links, é proibida sem a autorização do autor. Plágio é crime e está previsto no artigo 184 do Código Penal. – Lei n° 9.610-98 sobre direitos autorais.